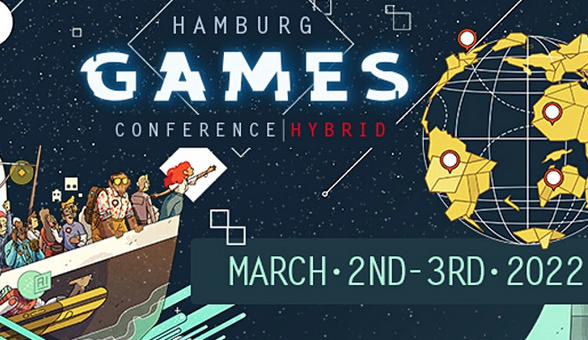 HYBRID 2022 - This year's conference topic: Moving Markets.
The annual Hamburg Games Conference has been a permanent date in the calendar of the international games industry for over 10 years. As one of the most important B2B events for the games sector in Europe, 2021 saw the conference set new standards by taking online events to a new level. 2022 will continue to define new standards for hybrid conferences.
The entire event will be enjoyable from the comfort of your own home on both the 2nd and 3rd of March. Our fully digital interactive expo will return with the chance to wander through the galleys and meet other conference attendees and exhibitors. Conference streams, video calls, and networking will all be available from the same platform!
For those who miss catching up in person, we will also be at the wonderful RCADIA Hotel in Hamburg on March 3rd. Here you'll be able to grab some food and enjoy the talks live, have meetings face to face, or revel in the evening entertainment. Access to the offline event is included in business tickets only.
We'll be looking at how markets change over time, over geographies and across sections of the industry. Companies face the constant challenge of keeping up with trends and the even greater challenge of getting ahead of them when expanding. With a team of expert speakers, we'll be diving into many interesting topics encapsulated by this theme.
The Hamburg Games Conference is co-hosted by Gamecity Hamburg and GRAEF Rechtsanwälte. The digital event agency is Super Crowd Entertainment, organiser of HGC since 2019, as well as Indie Arena Booth and MAG.