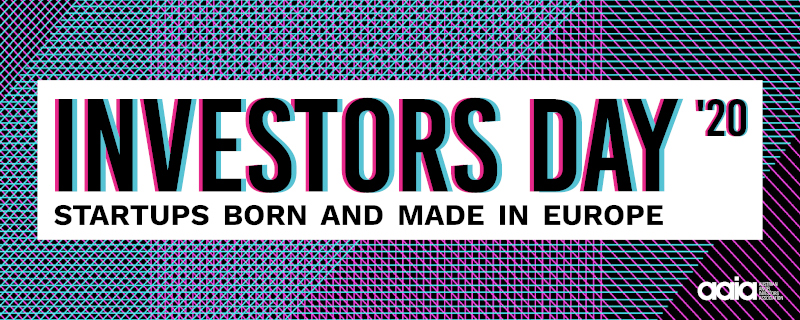 StartUps born & made in Europe
On November 12th we will connect European talent, capital and policy makers – borderless and digitally. Leading experts will discuss the necessary requirements for startups to get founded and to scale up in Europe. Get ready for keynotes, panel discussions, breakout sessions and virtual networking.
The Investors Day '20 is more than just an online conference. With an exclusive investors-only audience, you'll gain new perspectives – on talent, startup investments and the future of Europe. It is the networking hotspot for early-stage investors, policy makers and talent enablers. The Austrian Angel Investors Association, Austria's leading network for angel investors, organizes the event for the third time already.
Unsere Speaker sind schön auf unserer Website oder in der Agenda zu sehen, hier noch eine Übersicht:
Michael Brigl – Partner and Managing Director at Boston Consulting Group
Peter Cowley – President European Business Angel Network
Laura Egg – Managing Director at Austrian Angel Investors Association
Lisa Fassl – Co-Founder & CEO Female Founders Global
Nikolaus Futter – AAIA Board Member
Claudia Gamon – Member of the European Parliament | Party NEOS
Björn-Sören Gigler – Senior Digital Innovation Officer at European Commission
Georg Hauer – General Manager DACH at N26
Philipp Herkelmann – General Manager of Entrepreneur First Germany
Johann Hansmann – AAIA Board Member
Lena Hödl – Head of Accelerator @ Female Founders | Member @ Global Shapers
Aleksandra Izdebska – Director ICT bei ABA- Work in Austria (Austrian Business Agency)
Thomas Jarzombek – Commissioner for the Digital Industry and Start-ups and Federal Government Coordinator of German Aerospace Policy
Carsten Just – Head of ERP-EIF Dachfonds, European Investment Fund
Stefan Kreppel – Head of Open Innovation - Palfinger 21st bei PALFINGER Group
Alexander Kudlich – General Partner bei 468 Capital | Former Member of the MGMT Board Rocket Internet SE
Stefan Kermer – Head of Innovation and Strategic Projects / Corporate Development Department at Wien Energie
Anton Kittelberger – Co-Founder & Managing Partner at Sweet Ventures
Johannes Lindner – Founder and chairman of the Initiative for Teaching Entrepreneurship Austria
Henriette Lininger – Head of Issuers and Market Data Sales | Wiener Börse
Deepali Nangia – Investor & mentor for early-stage startups in tech with a focus on female enterprise
Selma Prodanovic – AAIA Board Member
Varun Purandare – Vice President at Accel
Roman Scharf – General Partner capital300
André Schwämmlein – Founder of FlixBus GmbH
Andreas Strasser – Managing Director at smartworks innovation
Ines Streimelweger – Investment Manager at Creandum
Gabriele Tatzberger – Director of Start-up Services at Vienna Business Agency
Ines Vodanovic – Director Bulgaria, Croatia at ABA – Work in Austria
Nina Wöss – Co-Founderin Female Founders
Steffanie Zirnyi – AAIA Board Member